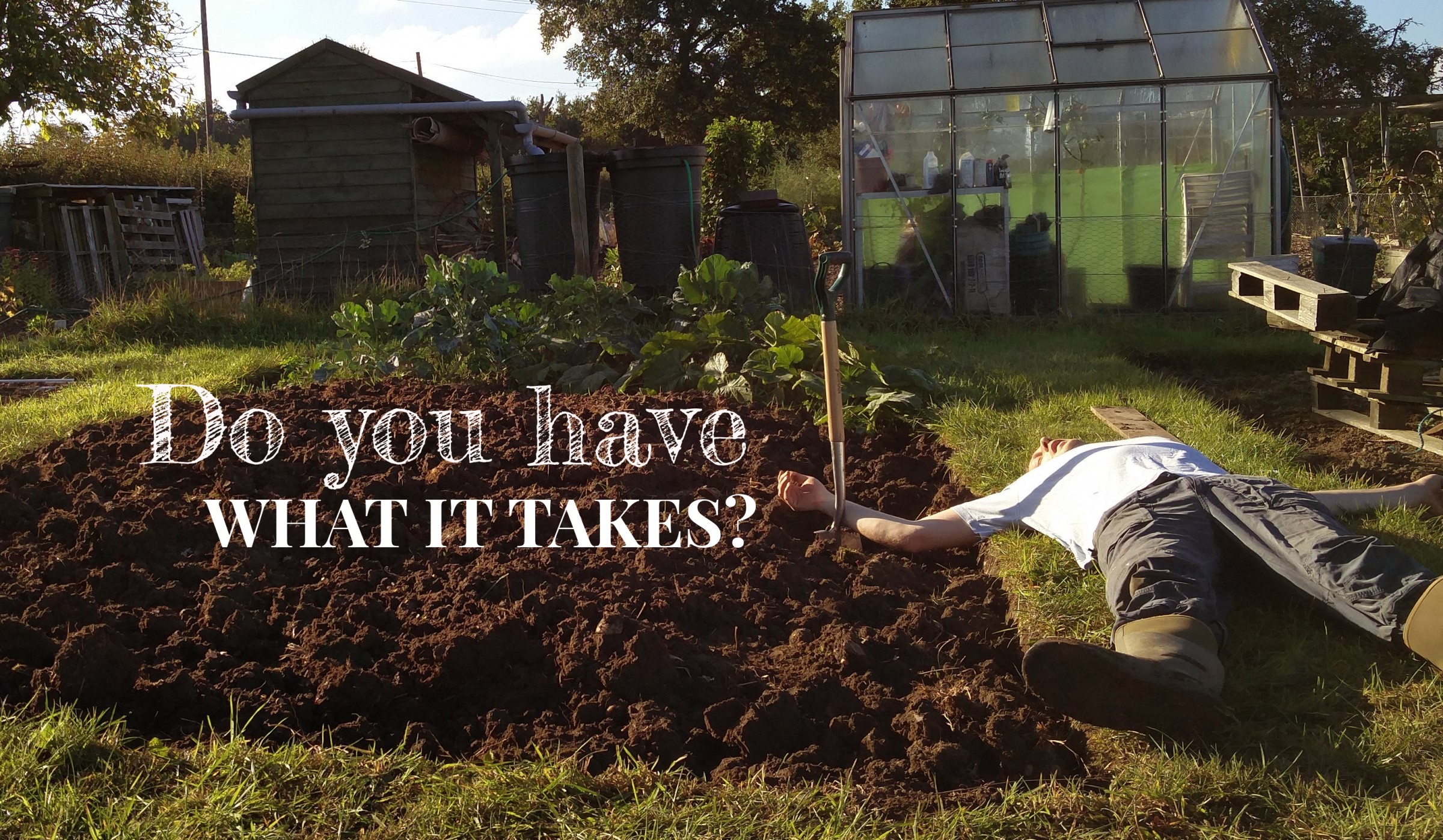 Many people toy with the idea of taking on an allotment. The thought of spending days or evenings pottering around or the dream of eating homegrown veggies is on the wish list of many. So why do so many people stop there? Is it the thought of all that work, or not feeling like they know enough to make a success of it?
People have many preconceptions of working an allotment. Some are accurate but most are not or can easily be avoided. In this article, I run through the main reasons for and against taking on an allotment and what you really need to consider when deciding if allotment holding is for you.
---
We've broken this guide into two sections:
---
Reasons for an allotment
Why are you considering an allotment? There are many reasons for taking on an allotment, some of them practical, others more emotional. I expect you'll agree with a few of these and will have your own that are not included here. We each have our own reasons. Hopefully, this list will help you to identify the real basis for why you want an allotment and help you make the right decision for you.
Concern about / desire to help the environment
Are you looking to help the environment by doing your bit to reduce food mileage? This is a great reason to take on an allotment as it will significantly reduce the food miles travelled by your fruit and veggies. If this is important to you then make sure you consider the miles you travel to get to and from the plot, and where you get your tools/fertiliser/compost etc. Buy local, secondhand and reuse, re-purpose and recycle.
Concern about or wish to reduce the chemicals my family and I are consuming
Are you concerned about what you are eating? whether that be pesticides, fertilizers or genetically modified food. Having an allotment will help here too. You'll be able to decide and know what goes on to your food. Even if you decide to use some chemicals fertiliser or insecticide (to help with aphids etc) you can research and choose the one you are most comfortable with. Note if you want a productive allotment there will be times when you'll want to use something to protect your plants, but there are many natural alternatives to toxic chemical-based products. (research and preparation is key).
A wish to improve your health and relieve stress
Do want a way to improve your health and relieve some of the stresses of life? I love having an allotment. It is my driver to get outside and somewhere I can relax. That is not the same for everyone though. For some it will just add to the stress in that is will be another place you'll need to keep tidy and more jobs you'll need to do. Having an allotment can be both relaxing and stressful. Which one will depend on you and your nature?
Desire to do something that gets you outside
Having an allotment will certainly do that!
desire to do something to fill your time
Allotments can use up as much time as you'll let them have. There is always something more you can do to improve the place.
desire to save money
Initially, it is more likely to cost you money. But once you've established the plot, have all the equipment you need, and developed a routine, it can save you money (although in my experience it's is about the same).
the thought/satisfaction of harvesting your own homegrown food

Yep, an allotment will give you that in "spades"! (sorry about the pun :) )
wish to be part of a friendly community
I agree with this entirely, but it obviously depends on the other people on your site. Just know that some on your site will just want to be left alone and don't want to chat all the time. Once you've been there a while you'll have made some great friends. As with all friendships, it takes time. A good way to integrate is to get involved in the society and attend any events that are hosted etc.
an outlet for your DIY/fixing/making habit (there is nothing left to do in the house!)
An allotment is never 'finished' in my experience. There is always something else to build, fix, re-purpose and alter. It is an ever-evolving space that you change to meet your needs.
your garden is too small
Yep, an allotment is a great extension to your garden. And if even that's not enough you can always take on another. :)
---
Reasons against an allotment
What's holding you back? Many never take the next step and sign up. In my opinion, there aren't any real disadvantages of holding an allotment. But here are some of the possible dis-benefits. Again many of these are true but some are not and they are each a matter of opinion: a dis-benefit to some is a benefit to others.
Don't have enough time
This really means that there are other priorities and need/want to spend time elsewhere. If you really want an allotment then you will make time for it. I have a full sized allotment and although I currently only work about two-thirds of it, I spend about 2 hours a week on it (less during the winter, slightly more during late spring / early summer).
Don't know what to do/have the skills
You may not know now. But it only takes a little research to get up to speed. There is so much free information and advice out there that you'll be an expert in no time at all. (google or Youtube what you want to grow).
Don't have the physical capabilities
You don't need to be strong or athletic to run an allotment. And even if you have physical limitations you can design the plot around them. Try Googling "allotment" and your specific physical limitation. There is bound to some advice out there.
It costs too much
An allotment can be run on ANY budget. What you spend on it is up to you. Like any project you will need time or money, or the quality/quantity of your produce will be hit. The more time you put in, the less money you'll need to spend. Things you buy (outside of making it look pretty) should save you time or improve the amount or quality of your produce. If you stick to that rule you'll keep it a frugal place.
Don't want to get involved in the site politics
As long as you are polite people won't mind if you decline. I also find that a clear "I'm really sorry but I need to get on" and then walking away / focusing on your work soon gives people the message that you don't want to chat.
Can't cope with the initial costs / effort
You don't have to spend the earth to start an allotment. If you do have limited / zero setup budget then try to find a plot that has been worked in the past and only just been given up. Then work with the layout they the previous tenant setup. Then over the years as you get more money to spend or more time you can convert it you the layout you want. As for effort, you can always rope in your friends and family to help with the initial clearing. Most would love to help.