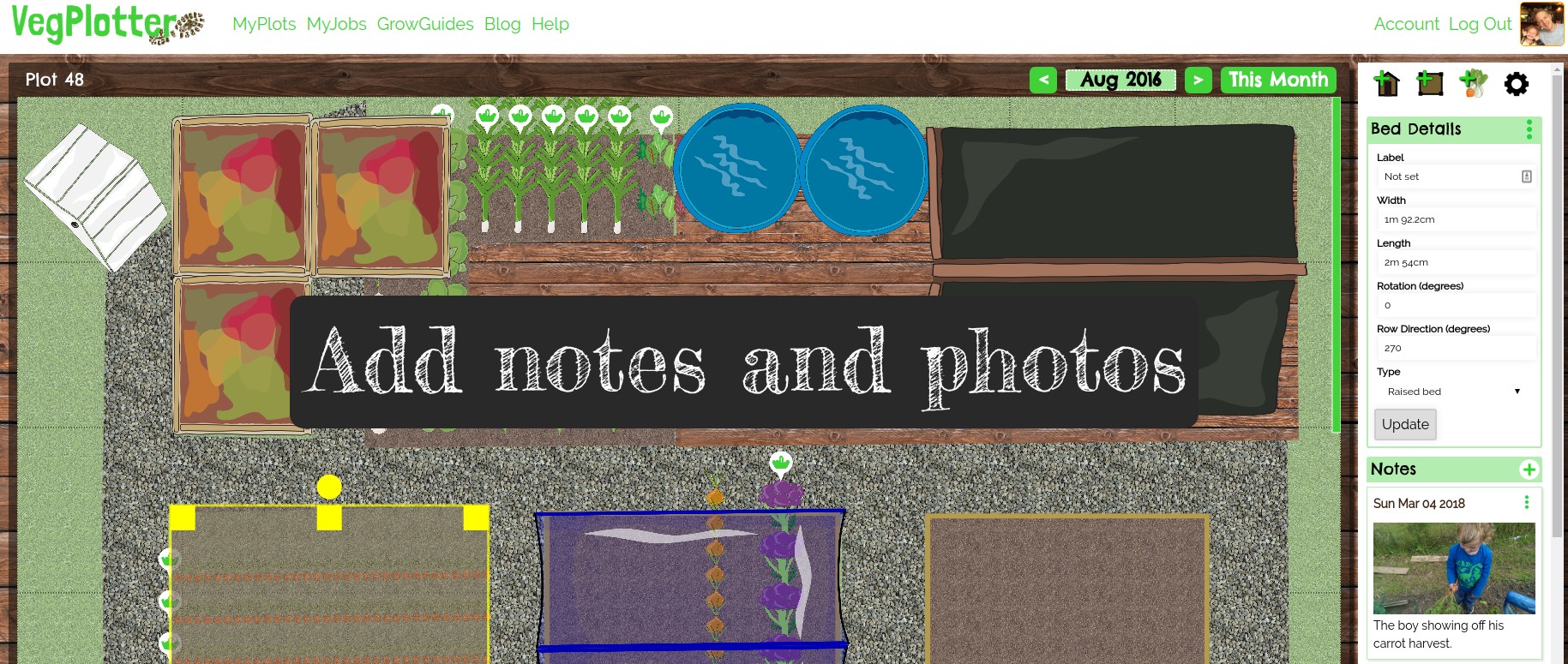 I'm excited to to let you know that I have released a new version of our vegetable garden planner. This short video takes you through the new features. I've also summarised the changes in the rest of the article if you prefer to read about them.
---
---
1. New Journal / Notes feature
You can now record your progress and keep a journal of your garden achievements. Attach notes and photos to any item on you plot. In years to come you'll be able to look back and see what you planted, where and and see the photo & notes you added.
2. MultiSelect items on mobile tablets
It is now possible to multi select beds, structures or plants on touch screen devices. To turn on multi select tab the Multi select icon (it'll turn yellow when on) and tap it again to go back to single select. Should make planning out your vegetable garden layout a lot easier.
3. Copy beds, structures and other garden features
If you select one or more icons, there is now the option to duplicate them. If you're on device with physical keyboard hit 'd' key.
On touch devices open the right hand menu and in the selection menu (icon with 3 dots) there is now a duplicate button.
4. Duplicate your plot
Not only can you duplicate features on a plot, you can now duplicate the whole plot. This will allow you to try out layout ideas without having to rebuild all the static features. To duplicate the whole plot click [Duplicate] in the plot settings menu (cog in right hand menu).
5. Update many plant rows at once
Before today you needed to alter the planting schedule for each plant. It is now possible to update all rows of the same type at once. Select plant rows of the same type them update as you would one row in the right hand menu.
You'll notice that the planting details displayed are for the first row selected. So if you want to copy the settings from one row to the rest select the one you want to copy the details from first.
6. Varieties!!
Yes! you can now enter a Variety against your plant rows. So for those of you (most of you) who grow many different varieties you can now keep track of them all in VegPlotter.
That is all for now. Over the next few weeks I plan to focus on adding more types of plants (including some flowers etc) to VegPlotter. If you have any suggestions please join our User Community on Facebook where I plan to share my ideas for improvements and give you opportunity to vote for which I should work on.
Thanks
Richard