Teaching children how to grow plants and food is an important skill to help them in their future lives. You can introduce local wildlife, discuss how food is grown, examine soil types, teach the importance of composting waste, and observe the weather all just by being outside. If you are a teacher, teaching assistant, or parent with an interest, this article is for you. Let's discuss some easy ideas to get that garden growing.
---
First things first.
Do you have permission to use the proposed site for gardening? You will need to speak to the head about this first, and then decide what is possible. For example, is it a supervised garden where adults are always present or could it be a quieter space for children to relax at play time or to spend some time alone with a small group of friends? This will influence the design. Then somebody needs to know about gardening, and you need planters or bare soil, plants, seeds, and lots of helpers.
Have you got gardeners?
This could be a teacher and interested staff, parents, carers or grandparents of the children, students at the school, and local volunteers. You may get a new volunteer or some free plants this way. In the UK, these volunteers will have to be CRB checked before they can work with children, but if you have able-bodied diggers at the start of the project or summertime waterers, then allow them to help when the children are not around. This will take a lot of the pressure off the busy teacher and if one of the Teaching Assistants loves gardening, let them get started. Plant seeds in pots on classroom windowsills and teach the children how long it takes for plants to germinate.
Starting from scratch or is there already a garden?
If it is a new idea, then choose the sunniest spot for the garden because most plants love the sun. Ensure that there is a water supply close too. If water is an issue, why not set up some water butts so that you can collect rainwater to use in watering cans? Ask the children, the staff, and volunteers what they want to grow, by showing them possible vegetables or fruit and then use VegPlotter projected on the whiteboard to see how many of that plant would fit in the planter. This is a great interactive idea for maths for KS1 children.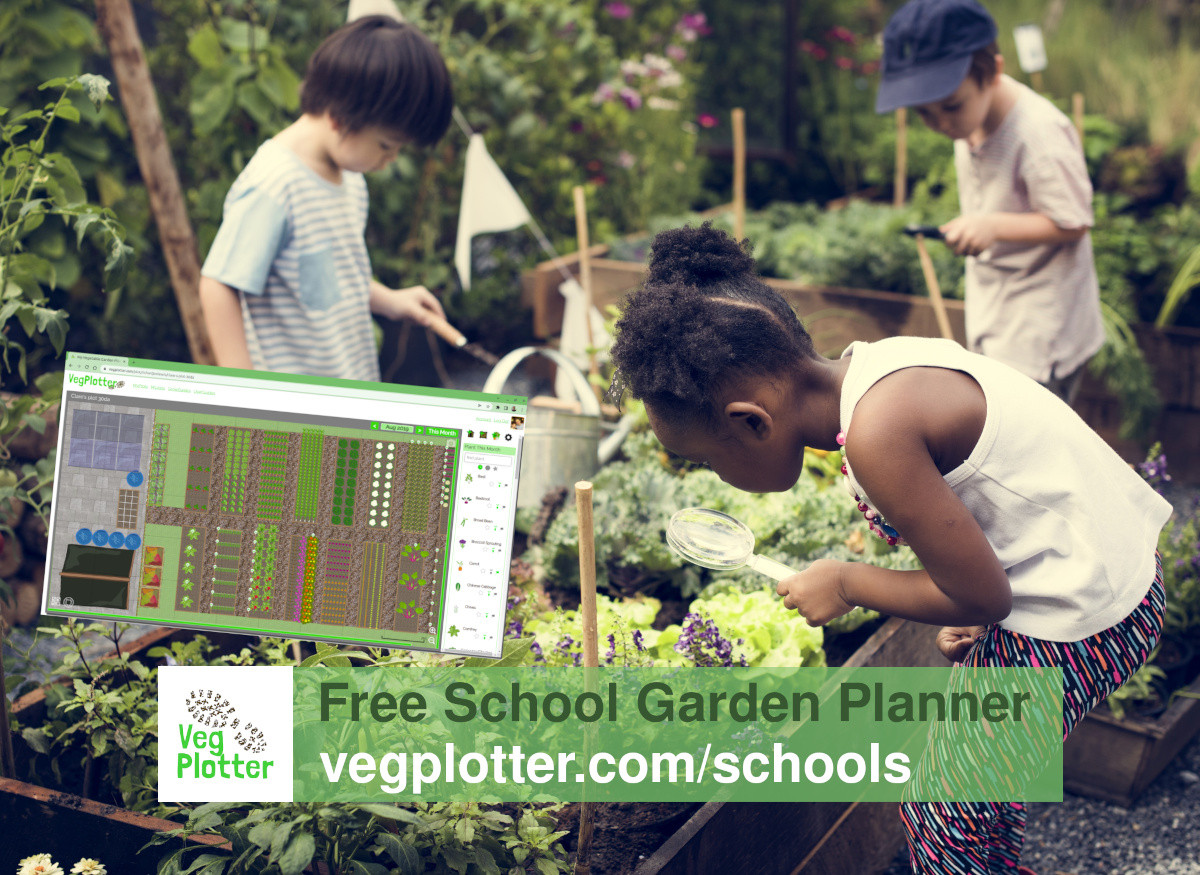 Use our Garden Planner in Lessons
Get Children to plan out their own School Gardens using VegPlotter as part of lessons. Signup for a FREE VegPlotter Teacher's account and create any number of anonymous pupil accounts for students to use. And plan out your school garden for free.
Draw a plan in art or DT
Brainstorm some ideas and go back to the head to check they are all possible and permitted. A pond is always suggested and is fantastic for birds and wildlife but without a budget and all the safety concerns, this may not be feasible. If a parent has an old paddling pool they want recycled, then maybe use that to create a small space filled with water and surrounded by plants. Raised beds are good for schools because they protect plants from passing balls and they keep the area neat. Any space with some sunshine will do, even if you only use containers.
Involve the families and local community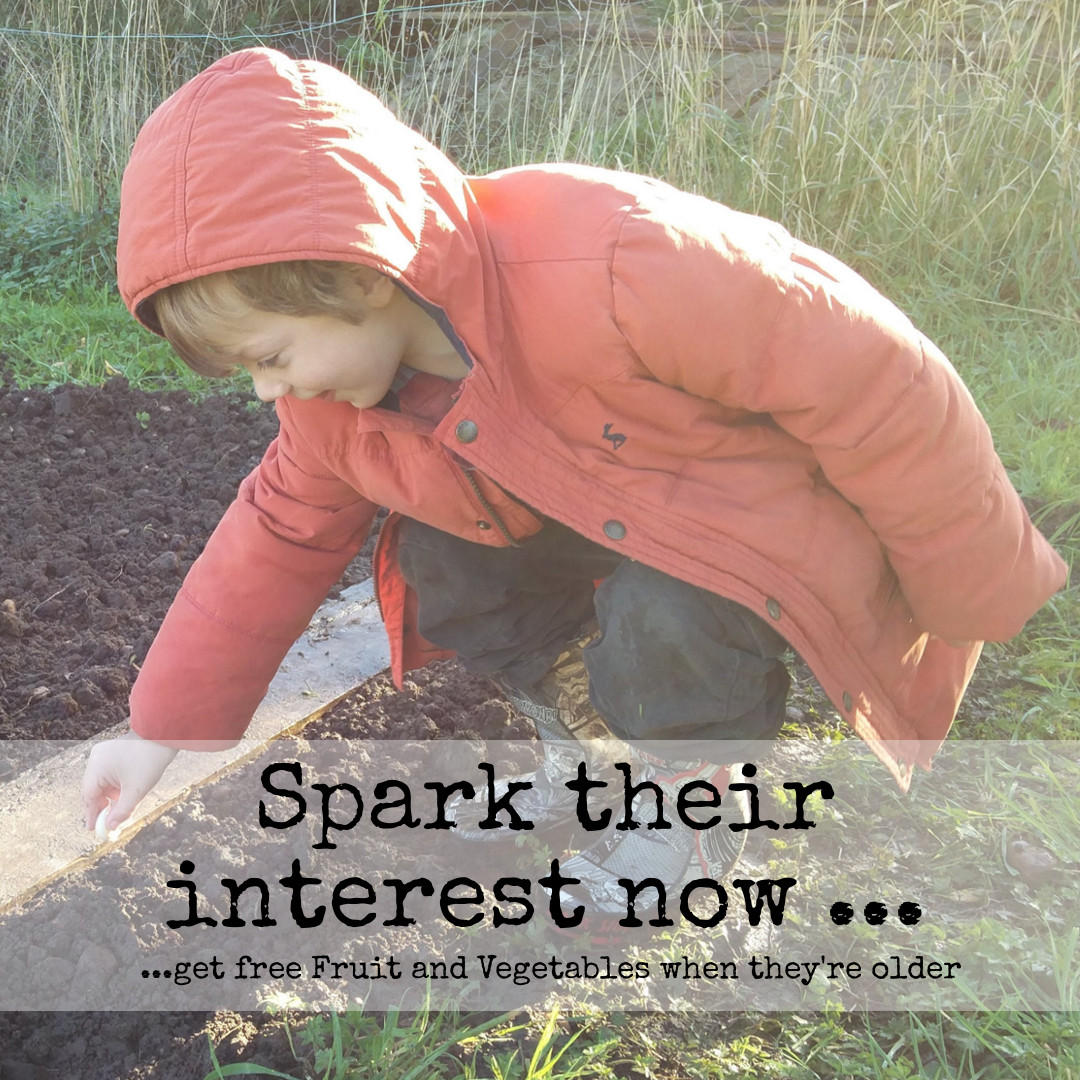 Send out a letter to parents asking if anybody has some leftover paint, gardening tools, plants, or containers for plants. At this time of the year, you may be offered benches, all shapes and sizes of planters, tomato plants, bedding flowers, and old seeds. Say yes to everything! If there are allotments close to the school, invite somebody to come to chat with the class or maybe take a small group to visit the allotments. Try to organise groups to look after a part of the garden, so the teacher does not have to superivse all the work.
Ways to tidy up a neglected school garden.
Ask the children how they would like to change it. Empty out old planters or weed them to remove any perennial weeds. You can recycle the dead annual plants into a composting area. If there is no compost bin, make one! See more on this below.
A simple answer to an empty wall surrounding the garden is to decorate it with a painted mural depicting the flowers they want to grow, the insects who visit, or any theme they choose. You can always insert some hooks for hanging baskets and use the wall as support for climbing beans. These will add gorgeous red flowers to the climbing plants by July and peas, sweet peas, Passionfruit and vines can climb over that wall with some string or hooks to help.
Get children to help with sweeping, hosing down the area and maybe painting the empty planters if they look faded. Reuse any pots you can. This teaches the children that it is better to wash and paint an old pot if it is still in good condition than buy expensive new stuff. If parents have donated containers like old baths, pots and pans or whatever, then fill these with water or compost and get planting!
Lots of school gardens utilize old tyres and I approve of the recycling. Make them look colourful and fun by painting or arranging them, but be careful not to just fill them with earth if planting edible food. Tyres contain toxins that will leach straight into the soil and if the children are eating the produce, this is not advised. You can recycle a plastic bag that held compost as a liner and then plant into that. The edges can be stapled directly into the tire or fixed with nails.
People often suggest seating areas just to admire the flowers, the butterflies, ladybirds, and any birds that live close by. If you have raised beds, these can be incorporated into the design.
What are the best plants for school gardens?
The school year has lots of holidays and ends in July so these plants will have an arid time until September unless a volunteer, a caretaker, or a teacher can water them.
For the autumn term, choose bulbs that can be planted, that will bloom in the spring or early summer so children and staff can enjoy them. Peas or Broad beans planted in the autumn term will fruit late in spring so these are perfect. Strawberries and raspberry canes can be planted now too so they will bloom and fruit the following summer term.
Plants that do not need that much care include perennial herbs like sage, rosemary, and thyme. These can be used in cooking too, if that is part of your curriculum. Plant these in the autumn or in spring and give them plenty of space to expand. Tarragon grows in poor soil so that can be a delicate taste for your students that will come back year after year.
In the summer term, plant tomatoes and basil seeds in pots. These will die off a week after the end of term without water, but you can give one to each student to take home for the summer. A pumpkin or squash planted in late May will give lots of pleasure by flowering in exotic shades of yellow or orange in late June and July, and then you need to persuade one person to harvest one to keep the plant producing but also water it weekly until the holidays are over. By the time children are back there will be squashes and pumpkins to pick.
Leeks are another good choice because you can plant them in June, hope for some rain in the summer, and by September, they will be starting to swell. Trees and shrubs will last well with only rainwater too because their roots are deeper. Nasturtiums and geraniums can be planted and left and unless it is a scorcher of a summer, they will continue to grow and flower until the children are back. Fill in any gaps with plants donated and your bees will be buzzing.
Environmental ideas.
Use recycled yogurt pots or milk bottles as plant pots. Make a hole in the bottom for drainage and give every child one with some seeds. Get them to paint their name on it to avoid mix-ups. Use clean, recycled milk bottles as watering cans too.
Compost classroom waste.
Buy a cheap compost bin and have a caddy in class for apple cores, orange peel, and any peelings or torn-up paper waste. What classroom doesn't have endless scraps of paper waste? Another idea is to transform a bin into a gobbling animal so that when the child adds food, it gets fed. Less food waste too.
Recycling school waste makes fabulous free soil for the fruit and veg, so try to get a few people interested in composting. Remind children what can go in and what cannot. Be careful not to add cheese, dairy, or meat because you will attract rats to the area! This learning what to add and what not to add can make a whole class.
The process relies on a layer of brown waste, then a green layer, followed by another brown one. Show them visual references like shredded paper, old cardboard, and paper envelopes that can all go in as a brown layer. Twigs, small pieces of wood, fallen leaves in autumn all count as brown waste. The green layer is anything that once grew except animal products, so apple cores, orange peels, banana skins, nutshells, leftover bread crusts (came from wheat) and leftover salads can all go in.
Educate the school about composting.
Run a poster competition to remind everybody what goes in and what does not. Have a few compost monitors or helpers in the playground, who can answer questions and that means the staff too. Stores like B&Q and Dobbies offer community groups free tools, planters, and plants so you could offer some of these as a prize. Or maybe that trip to the allotment for the fantastic compost mentors?
Get creative!
In art class, discuss some of the animals that live in compost and paint these on boards. Show children pictures of earthworms, centipedes, slugs, cutworms, maggots, and flies. In Kent where I live, you will also find lizards, and slowworms curling up under any warm space. Impress upon them not to kill any bugs because they are part of a whole food system. Remind children that bees and other pollinators need flowers to pollinate so all their plants will be helped by them.
Save rainwater by installing a few butts close to where drainage pipes are and persuade the caretaker (or anybody willing), to cut the pipe so that it runs into the butt.
Conclusion
It's not too late to get planting in that neglected spot on the school grounds. Send us your pics too and any wildlife that visits. Next week let's look at maximizing your spring harvest by succession planting. Happy planting.