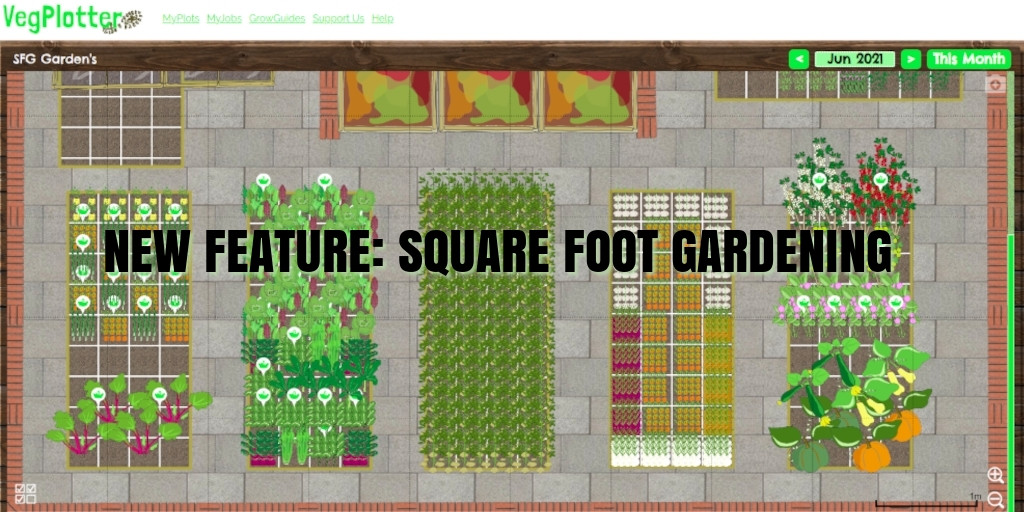 VegPlotter now allows you to plan out your Square Foot Garden. It has been a long time coming, and I'm so pleased to be able to launch this new feature.
---
If you have never heard of Square Foot Gardening, you may want to read our What is Square Foot Gardening? post.
Add a Square Foot Garden bed to VegPlotter
You can add Square Foot Gardening (SFG) beds to your VegPlotter garden plans. A new SFG garden bed option is available from the Add Beds menu.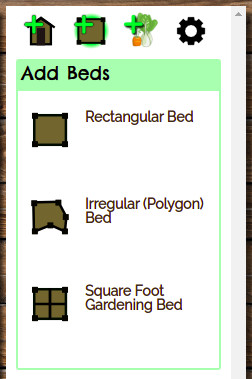 Square Foot Garden beds extend out in 1-foot increments. You will notice that they include a white 1-foot grid to show how many squares the bed has. As with all beds and structures in VegPlotter, you can rotate and move your beds into position. You can also add exact measurements in the right-hand menu rather than dragging to resize the beds.
Add SFG plants to your garden plan.
You add plants to your SFG beds on your garden plan in the same way you do for the standard row type beds. Left-click drag (or drag with your finger on mobile) the plant icon from the right-hand planting menu.
As soon as you have dragged the plant icon over an SFG bed, VegPlotter will show you the plants in the closest square. Once you have selected the 1-foot square, unclick or lift your finger to stop the drag and VegPlotter will save the planting in that location. You'll notice that VegPlotter lets you know exactly how many plants you can plant in that 1-foot square and draws the planting icons in the optimal orientation. If a plant needs more that one square, for example, Pumpkins, VegPlotter will draw the planting over multiple squares to account for the plant's extra space.
Adjust the variety, planting schedule or number of plants per square
As row-based plantings, you can enter a variety and adjust the Sow, Plant Out and Harvest dates and change the number of plants per square. Adjust these in the planting details menu. Have a look in the right-hand menu when the planting block is selected.
Extend out the Planting block
Once you've added a plant to your SFG bed and adjusted the planting schedules and variety etc, you can extend it out to fill the entire bed or create a row or small collection of blocks with the same planting type.
Extending the planting out is useful for plants that grow well in a block, like Sweetcorn, that need to be close together to pollinate each other. Or in rows of blocks where it is useful for plants that need to grow up a structure along one side of your bed (like beans). You can extend out the planting by pulling out the yellow handles when the bed is selected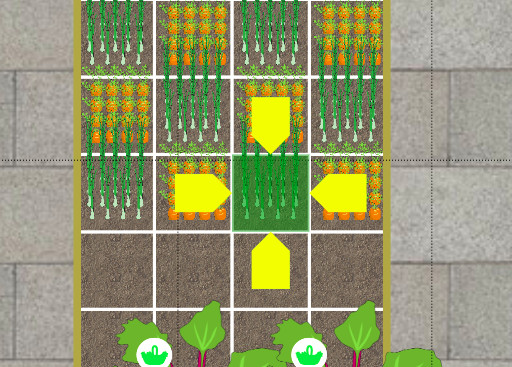 Crop Rotation and Succession planting
SFG beds continue to display planting conflicts when you drag on a plant or extend out your planting blocks in the bed. Conflicts that VegPlotter will warn you about include:
Crop Rotation Conflicts: VegPlotter maintains a history of your planting plans and displays plants of similar types. This crop rotation feature helps to prevent disease by warning you of those conflicts.
In-Ground Conflicts: VegPlotter warns you that you are attempting to add a plant to a location where the growing periods will overlap. This conflict warning helps with successional planting and allows you to optimise your growing space by preventing clashes and overlaps throughout the season.
I hope you enjoy the new Square Foot Gardening features of VegPlotter. I enjoyed creating it. If you have any suggestions for improvement to this feature or the VegPlotter garden planner, let me know.
Richard