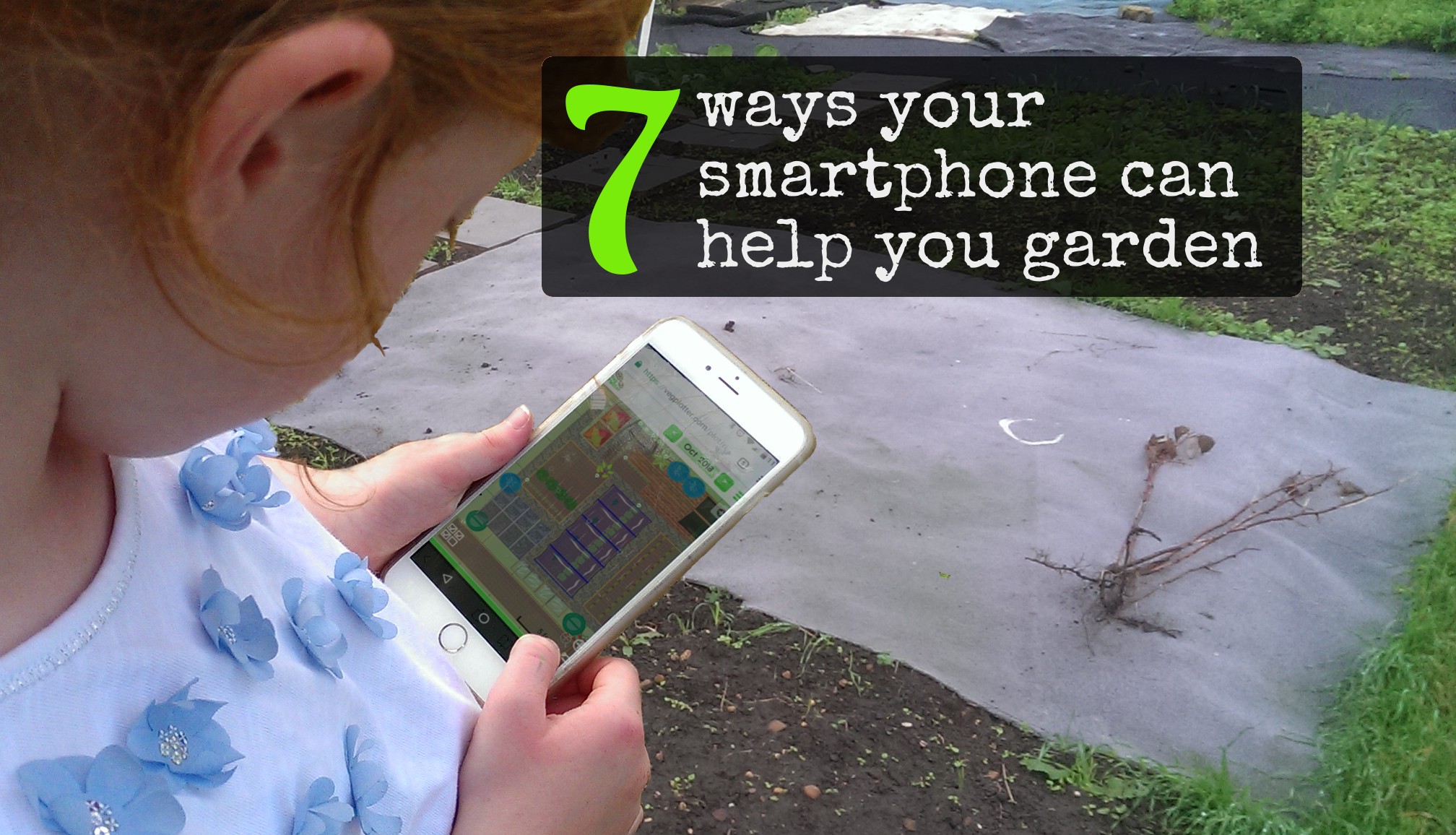 Disconnecting (from digital world) is a big plus for gardening. I have often left my phone at home to allow me to get away from it all and focus on the task a hand. But there are many benefits to taking your smartphone with you. This article points to some areas where you may find your smartphone beneficial.
---
Key Advantages (click to jump to the relevant section)
---
On site research
You've got everything ready for sowing. You've cut out your first drill and are about to draw out the second but you can't remember how far apart they need to be. You'd normally look at the packet, but you lost that last month. You think you know the distance but you're not certain. This is the main reason I have my phone available on the plot. A quick googling (or VegPlottering) will often yield the answer to these simple questions.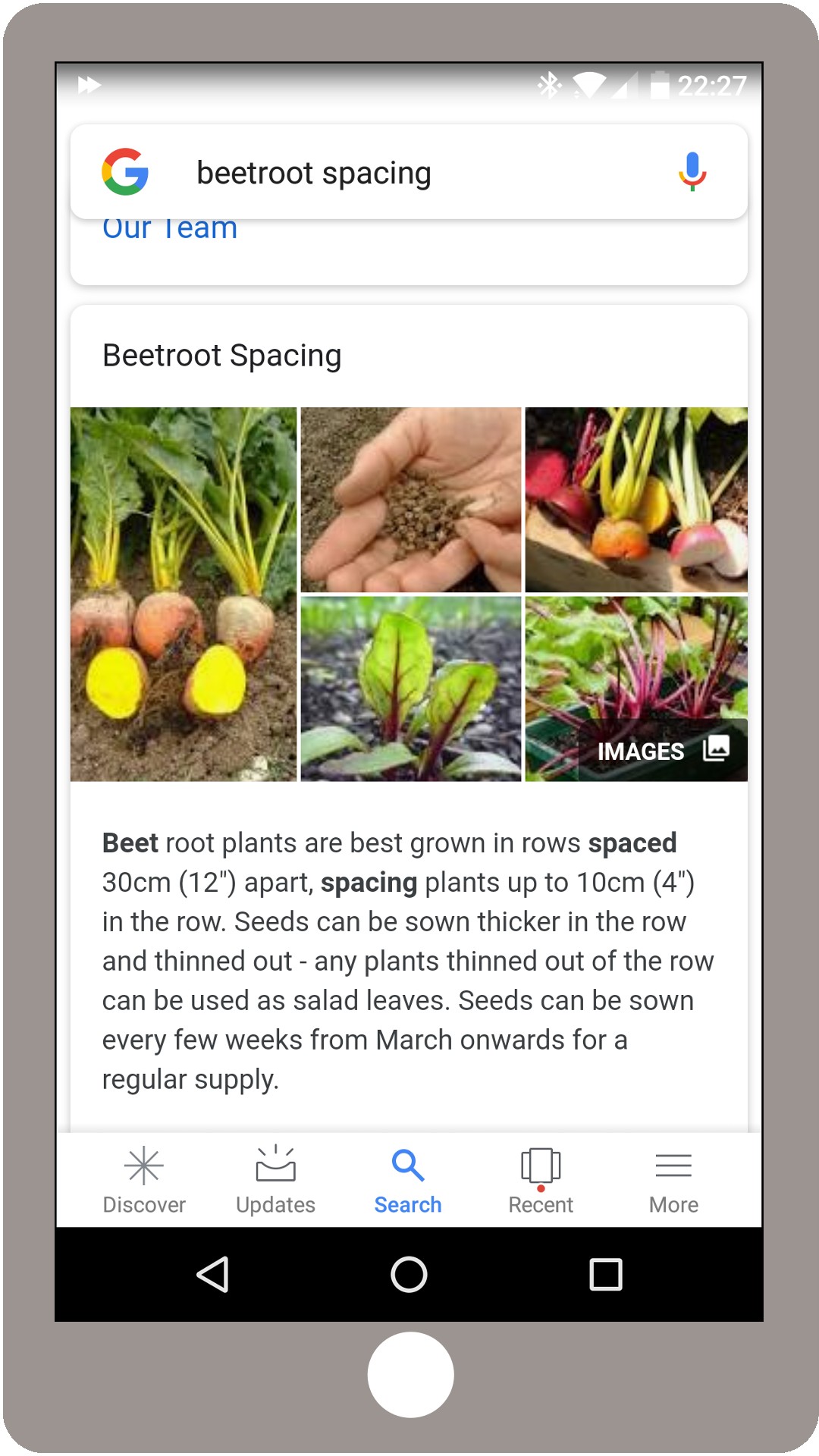 I do this to the extent that I wonder how we coped without Google. I know we all did this before the dawn of the internet and then the smartphone but it still boggles the mind. Maybe we rely on it too much but you can't deny it's not useful.
---
Near instant advice
For more complicated questions or where you'd have to read through a tonne of google results to find the information you need. Then Twitter, Facebook or Reddit to the rescue. Post a question, or even better a photo, to Twitter (with a #gardenhelp, #allotment or #gardening hashtag), Reddit r/gardening, or to your favourite Facebook gardening or allotment group. Any of these will nearly always yield a very quick answer to your question. The numbers of people and the breadth of knowledge that you have access too on these services is phenomenal.
I have used all of these services and have never been disappointed. I've included examples below, where I asked Reddit r/gardening (first / left image ) and Twitter (second / right image) what was up with the acorns on our site's oak tree. Turned out it was knopper(or oak) gall which is a strange growth caused by a small wasp. The online community (twitter, facebook, reddit) is a treasure trove of information. So use it where you can.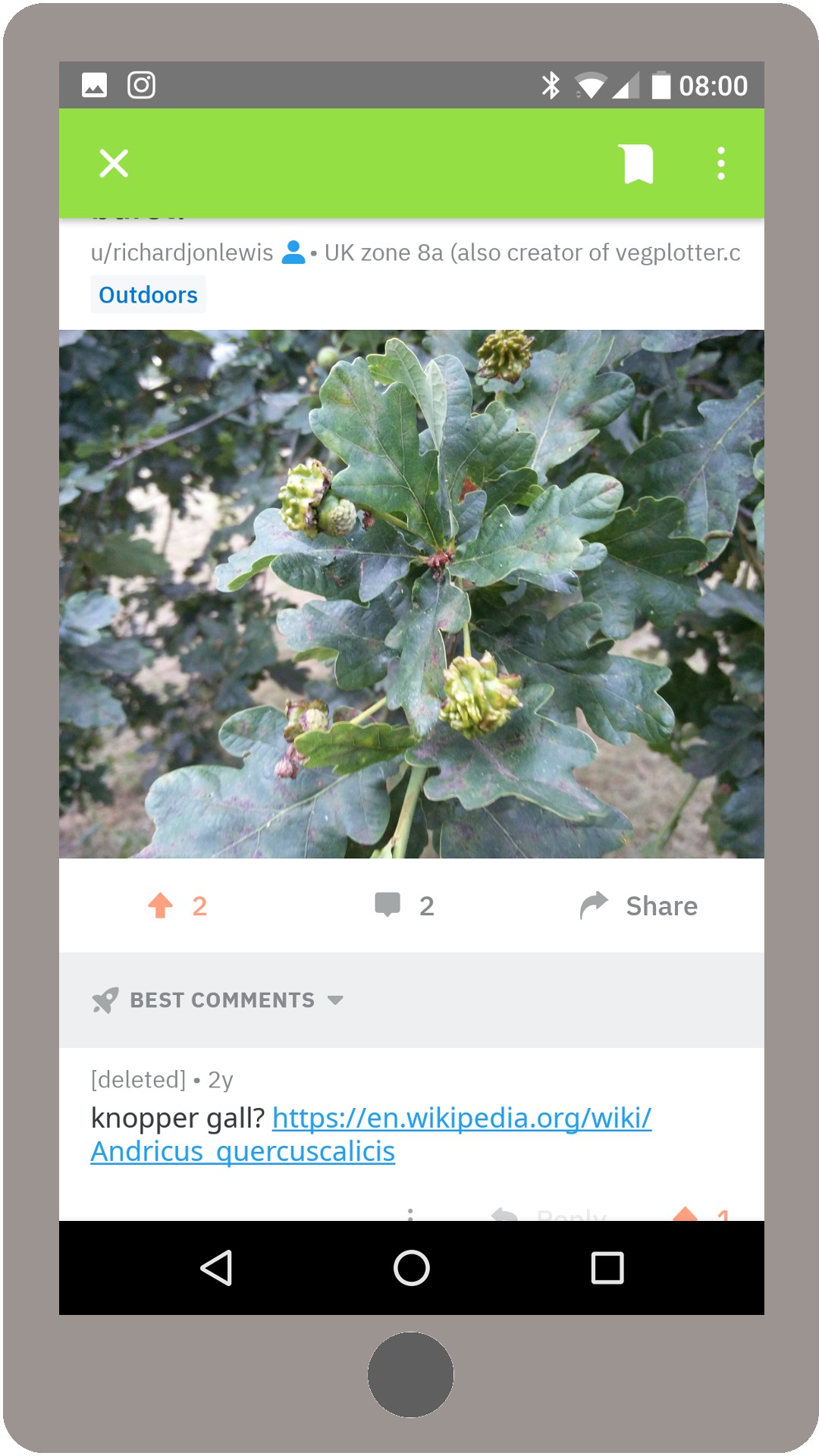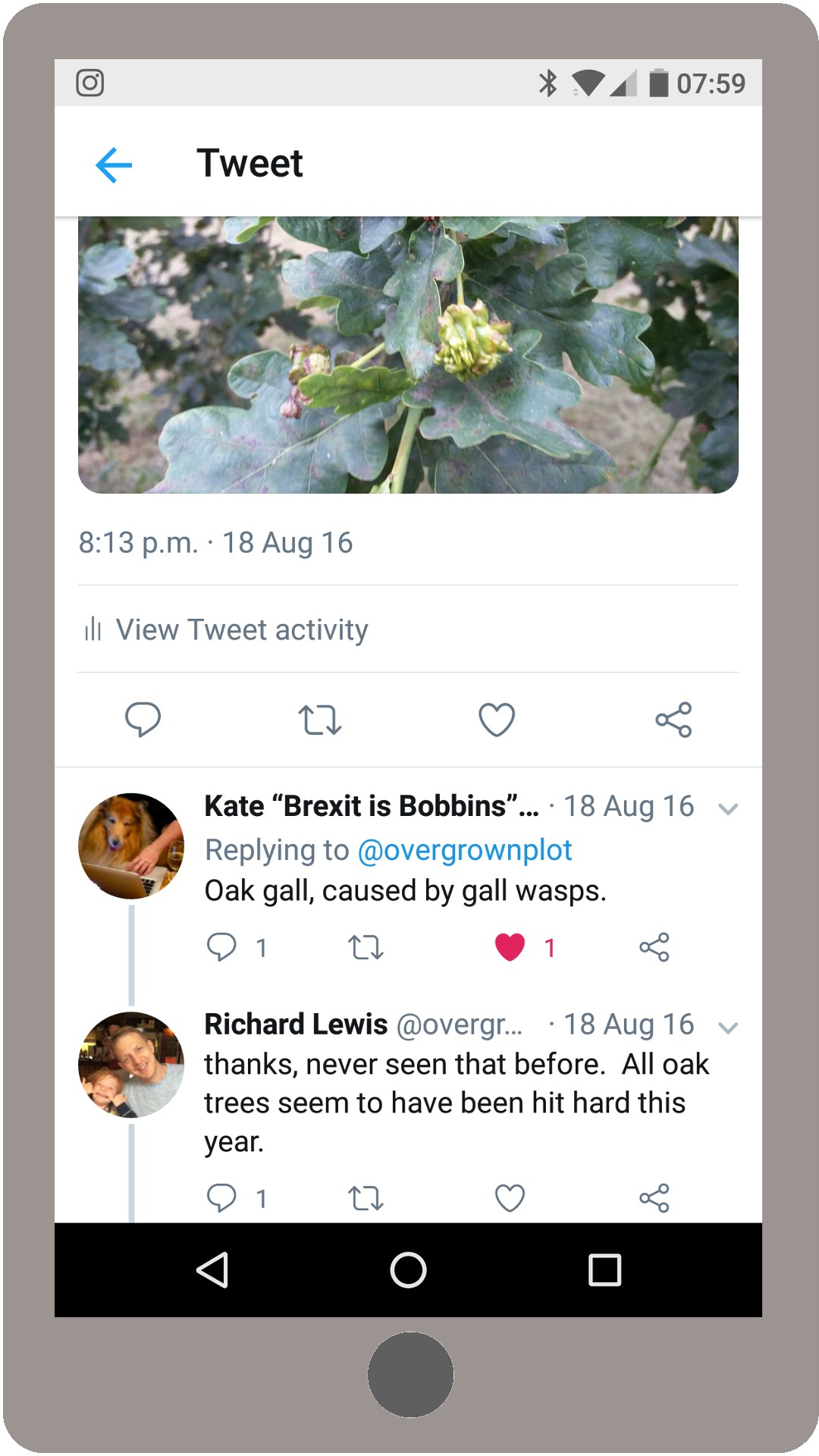 ---
Order stuff straight away
Another great use for the smartphone in your garden is to buy / order what you need as soon as you realise you need it. The real benefit is not having to remember to do it later or what exactly it was, or how much, you needed. I think we have all been in that situation where we've forgotten to measure out the bed or length of fencing we need to order. If you do it straight from the plot you won't have to remember or write it down.
Even if you don't order straight away, you can add stuff to an online shopping basket for later checkout when you're ready to put your bulk order in.
---
Planning your limited plot time
Unless you're retired and have an indefinite 'pass out' from your better halves or have decided to live in your garden as a hermit you will have limited time in the garden. Your phone can help here too.
For example I would often arrive on site to realise that I'd forgotten to bring down some seedlings for planting, or left my hoe / fork /pruning shears at home. Now I simply use the calendar on my phone and if I plan to head down to the plot or garden centre I add a note against the appointment with what I wanted to bring / buy. I've included an example of how I do this below.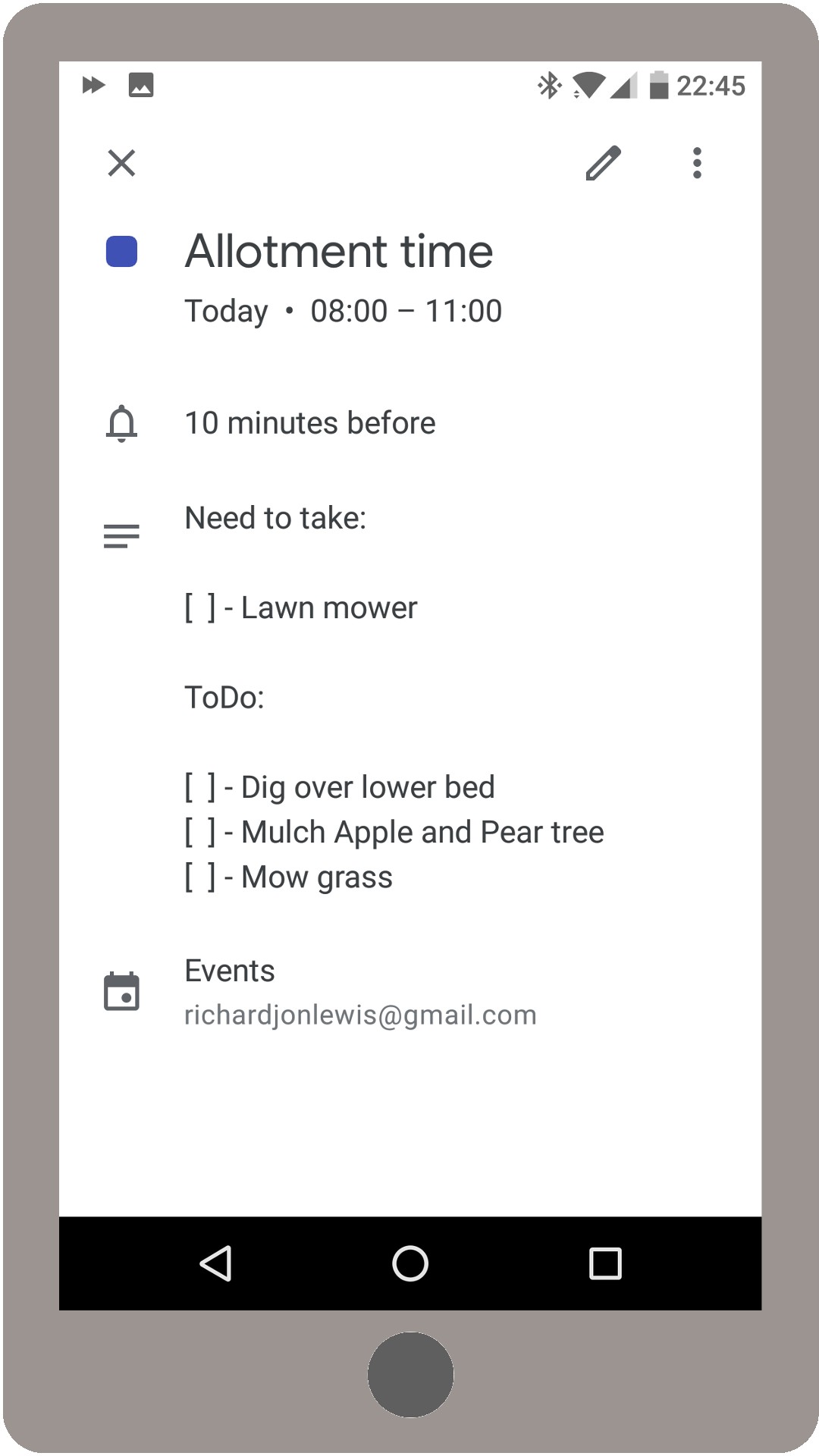 I can hear some of you saying how a simple paper notebooks also does the trick. But I, and I suspect others, would always forget to bring it. Where as, my phone is something I rarely forget to bring with me.
Smartphones also have note taking apps that allow you to capture a quick list of everything you want to achieve. You can even take it further and use the calendar and to-do list apps to schedule your time. Then you just have to remember to check your phone before you leave for the allotment next time ;).
Some apps I recommend for this include: (these are not affiliate links - just services I like to use)
Note Taking Apps
Task and To Do List Apps
Calendar Apps
All are free to use (for basic functions) and work on phone, tablet or computer.
---
Keeping records for future reference
Phones are a great way to keep a record of things. You can use the note taking apps to capture notes or make use of the camera.
This is especially useful for keeping a record of:
Harvests (quality, quantity or photos)
Pests (when, where, how severe and where affected.
information from, or photos of, seed packets (why keep them when you can keep a photo on your phone).
Photos / videos showing how beautiful and tranquil the place is or the progress you've made over time.
VegPlotter's free vegetable garden planner can help here too.
Click here for more information on our notes and photo upload feature. This allows you to keep text and photo records of your growing year in our garden planner..
---
Plan out your full planting year whilst sipping tea in your garden
There are many tools available from your phone or tablet that allow you to layout garden and plan out your plant year. Our free vegetable garden and allotment planning software is especially designed for this purpose and makes it easy and quick to do so. As well as phones it also works on computers and tablets so that you can plan out your vegetable garden way into the future.
Click here to try out our free allotment and vegetable garden planner
---
Feeling part of a community whilst working alone in your garden.
Smartphones are ultimately tools to help you stay connected. And here is where they excel. They allow you to stay connected with other vegetable growers, allotmenteers and gardeners. It's great to be part of a community and help each other out wherever possible. If your interested in this there are many platforms to try. My suggestions:
Get yourself a twitter.com account and start posting pictures of what you're up to. Ask questions with the #gardenhelp, #allotment or #gardening hashtag and you'll soon start getting responses. Follow other gardeners by searching for allotment or gardening in the search and start getting involved in the conversations. This way you will soon feel become part of the online community.

Other great communities are on facebook. Search in the Groups section for what interests you. There are bound to be a number of groups for you to join. Once you've been added to a group post regularly about what you're up to and help others by answering any questions they have and ask your own questions. You'll be amazed at level of knowledge these groups have.
---
Conclusion
Smartphones are very useful and a great tool. We are not suggesting that you should always have your phone on you in the Garden or Allotment, but it is useful to have it nearby. Just don't let it distract you from the task at hand.
Saying that, if you work out a way to use it as an effective tool only and not get detracted, I'd love to know how you've done it. I wouldn't say I've managed it yet. :)
Richard